1.SmartMaster Extraction Filter
The Smart-Master fume extraction/filtration is the most economical unit in the Kemper range for light-duty welding.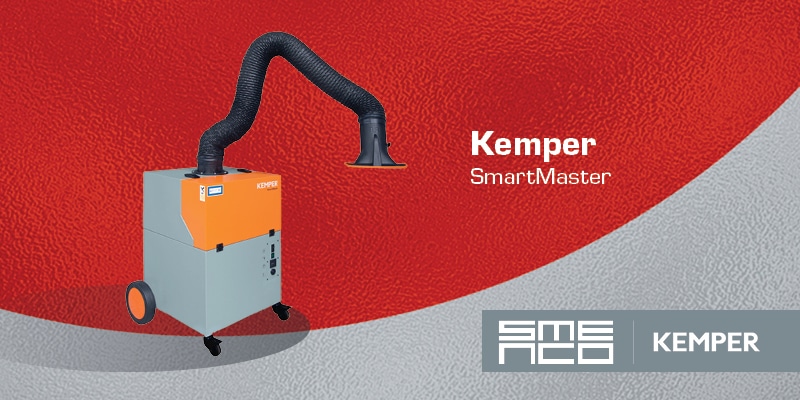 It is equipped with a 3-stage replaceable filter system and is W3/IFA certified for the removal of ultra-fine particles including chromium-nickel steel and high-alloy steel welding fumes.
Hood adjustment is reduced by flow-optimised design and can be easily moved through 360 degrees, an additional suction point also allows for fume extraction via flexible hose if required.
With its economical price & German design, Smart-Master proves to be the winner in its class.
2. Filter-Master XL extraction filtration unit
The Filter-Master XL extraction filtration unit has a self-cleaning filter system which is ideal for high levels of weld smoke and continual operation.
Benefits:
High efficiency due to automatic filter cleaning
Exhaust arm requires less adjustment due to the flow-optimised exhaust hood design
Filter monitoring & hour meter
Long life, self-cleaning filter cartridge
2. SmartFil Extraction Filter Unit
Featuring the SmartFil Extraction Filter Unit: a mobile welding fume filtering unit specially designed and developed for professional welders and yet affordable for newcomers.
An even larger replacement filter and other accessories enable welders to further upgrade the extraction unit. Equipped with a safe change round filter that allows for a contamination free filter changing, KEMPER has also optimised the design to create a more attractive, rounded appearance.
For its economical price yet superior quality, SmartFil proves to be the performance winner in its device class.
To learn more, send your enquiry below.